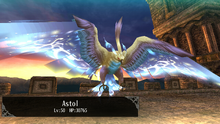 Astol is a non-storyline boss available in Toram Online. It is the boss of Aulada Ancient Tower: Deck.
It is Level 50. Its element is water and wind. It might be hard to fight below LVL70 if you did not invest much in health and defense.
Aqua Armor

ATK +1%
MATK +1%
Dodge +10%
Max MP +100

Crystal Wings

Light Element
Long Range DMG +3%
Dodge +70%
ASPD +3
Heaven Bird Claw
Heaven Bird Tail Feather
Heaven Bird Crest
Heaven Bird Tear
Xtal (Crysta)
Edit
Evasion Rate -30%
Magic Resistance -1%
DEF +10%
Ad blocker interference detected!
Wikia is a free-to-use site that makes money from advertising. We have a modified experience for viewers using ad blockers

Wikia is not accessible if you've made further modifications. Remove the custom ad blocker rule(s) and the page will load as expected.