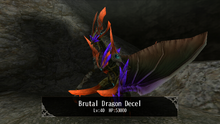 Brutal Dragon Decel is the fifth boss you will fight against in Toram Online in the storyline. It is the boss of Nisel Mountain: Summit.
It is a Level 40 boss. Its element is Earth and it is weak to Fire.
Brutal Dragon Claw
Brutal Dragon Skin
Brutal Dragon Horn
Brutal Dragon Tail
Brutal Dragon Armor

Max HP +100
ASPD +10%
Phys. Resist +2%
Crit DMG +2%

Brutal Dragon Crown

Weapon ATK +5
Attack MP Recovery +3

Fire Resist -1%

Brutal Dragon Sword

Base ATK: 27 (80%)
Attack Speed +500
Cast Speed +50

Black Crystal Fragment
Xtal (Crysta)
Edit
ATK +1%
MATK +1%

MaxMP -150
Ad blocker interference detected!
Wikia is a free-to-use site that makes money from advertising. We have a modified experience for viewers using ad blockers

Wikia is not accessible if you've made further modifications. Remove the custom ad blocker rule(s) and the page will load as expected.