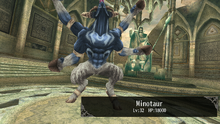 Boss Monster that appears in the story line.
Location
Edit
Ruined temple: Forbidden Hall
Minotaur Knuckles

Base ATK: 23 (85%)
Fire Element
Critical Rate +10
Accuracy -20%

Minotaur Staff

Base ATK: 34 (55%)
Fire Element
Attack MP Recovery +2
Attack Speed -10%
Minotaur Hoof
Minotaur Skin
Minotaur Horn
Damascus Ore
Xtal (Crysta)
Edit
Ad blocker interference detected!
Wikia is a free-to-use site that makes money from advertising. We have a modified experience for viewers using ad blockers

Wikia is not accessible if you've made further modifications. Remove the custom ad blocker rule(s) and the page will load as expected.