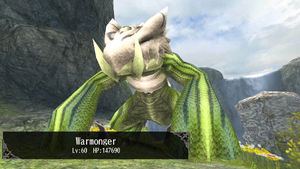 Warmonger is a non-storyline boss available in Toram Online. It is the boss of Haotas Ravine: Deepest Part.
It is Level 60. Its element is Earth.
Scale Armor

DEF +5%
Guard Power +5%
Ailment Resistance +10%
Neutral Resistance +10%
Critical Rate +5

War Helmet

Weapon ATK +10
Critical Rate +10
Ailment Resistance -20%

War Bowgun

Critical Rate +12
Critical Damage +5
Ailment Resistance -14%
Dark Gray Claw
Thick Green Scale
Huge Skull
Xtal (Crysta)
Edit
Crit Rate +6
Crit Damage +2
Ad blocker interference detected!
Wikia is a free-to-use site that makes money from advertising. We have a modified experience for viewers using ad blockers

Wikia is not accessible if you've made further modifications. Remove the custom ad blocker rule(s) and the page will load as expected.